Avetti Supplier Connect
Supplier Connect is a powerful SaaS tool that adds marketplace capability to add suppliers to YOUR ecommerce store. Adding more products you can upsell makes your site larger and adds. more keywords to increase your SEO ranking. The result is more sales. Avetti Supplier Connect simplifies adding products to your site AND updating prices and inventory daily. Orders are automatically routed to your supplier once you approve the order letting the supplier fulfill the orders. Supplier Connect enables merchants to easily and efficiently aggregate suppliers onto their stores and provides them with multi-vendor capability, which means that they can offer a wide range of products to their customers.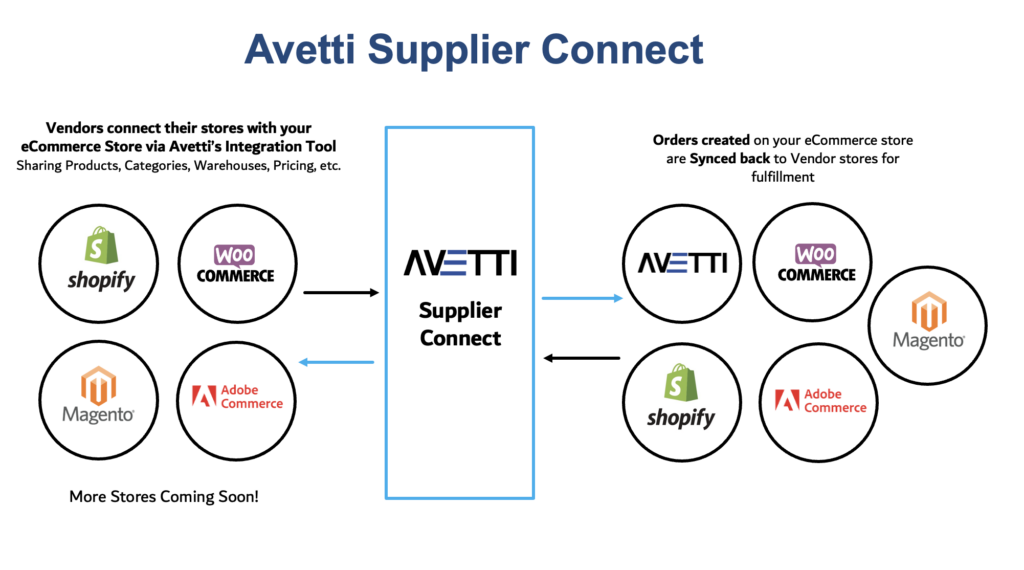 Supplier Connect offers a significant advantage by automating the complete process of ordering. Once approved Avetti Supplier Connect sends a notification to the supplier upon receiving an order. Consequently, the supplier can fulfill the order and ship the product to the customer, eliminating errors in communicating order details and shipment addresses. This not only saves time but also enhances accuracy, thereby reducing the possibility of errors and increases your sales.