Avetti Shop Connect
We are pleased to launch a revolution that expands where you can sell your products. Historically you would sell on your brand.com site and larger marketplaces such as Amazon. Selling on other eCommerce sites has been difficult, time-consuming, and almost impossible.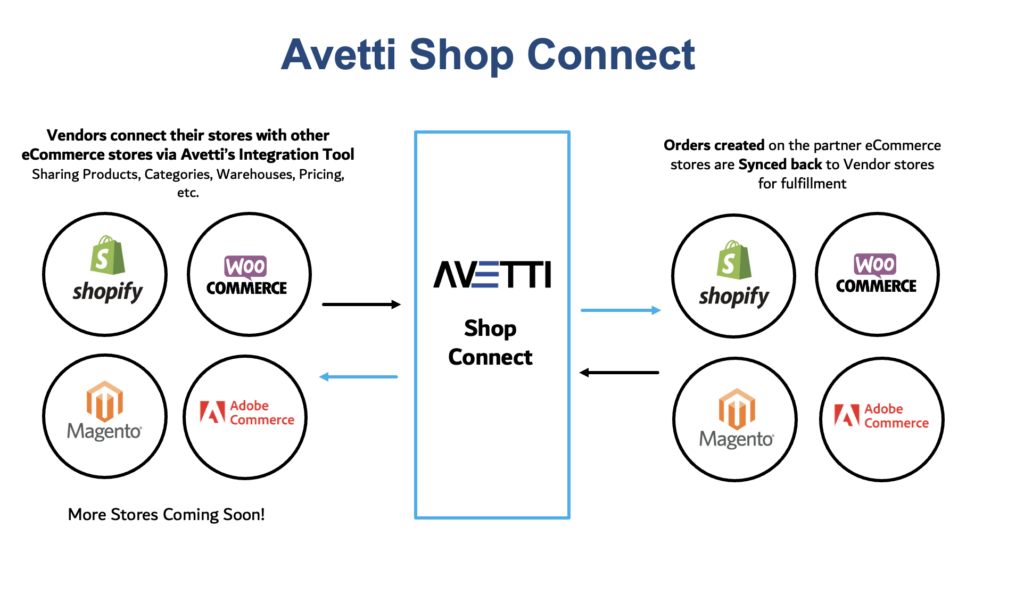 Now Avetti Shop Connect enables you to maximize your sales potential by reaching a wider audience. With Avetti Shop Connect, you can easily add your products to other eCommerce stores increasing your sales channels and increasing your sales.
Shop Connect simplifies the entire process of sales, starting from placing the order to fulfilling it. When your product is purchased on your resellers site Avetti Shop Connect creates the order in your eCommerce system enabling you to promptly and efficiently fulfill the order. You do not need to login to any other system. Orders just appear in YOUR eCommerce solution. This saves you time and makes it EASY to add resellers to sell your products. And as you update products, prices and inventory these are updated on your resellers automatically! Once you have added a reseller all you need to do is wait for orders to appear in your system. This eliminates the necessity of communicating order information via email or phone, which can be prone to errors and consume time, and guarantees that your customers receive their products promptly.
Contact us to learn more about how you can add more sales channels EASILY.