Our Technology
Avetti Front-End
« The modern way to build website & apps
that delivers better performance! »

Avetti Commerce 11 Back-End
High performance Java
High scalability and security.
Composable Commerce
A modern site design approach is composing best-of-breed solutions from many SaaS providers and legacy internal solutions into one powerful eCommerce solution. Your project is an opportunity to bring the business the advantage of the flexibility that Composable Commerce offers you. There are 3 key layers in a Composable Commerce solution. The orchestration layer, the presentation layer and the applications.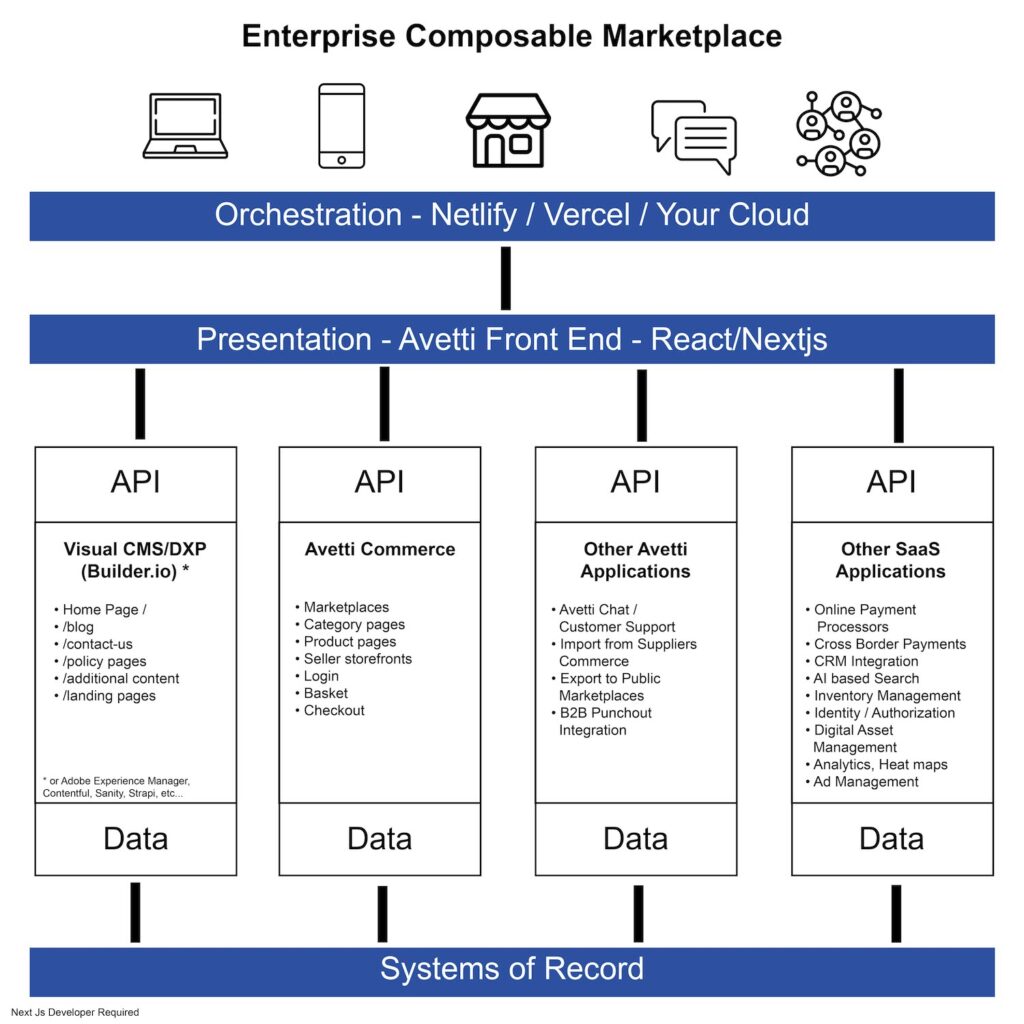 You can scale the DXP to be Adobe Experience Manager or you can even scale the CMS component even be a simpler WordPress application. Composable Commerce provides Business Flexibility.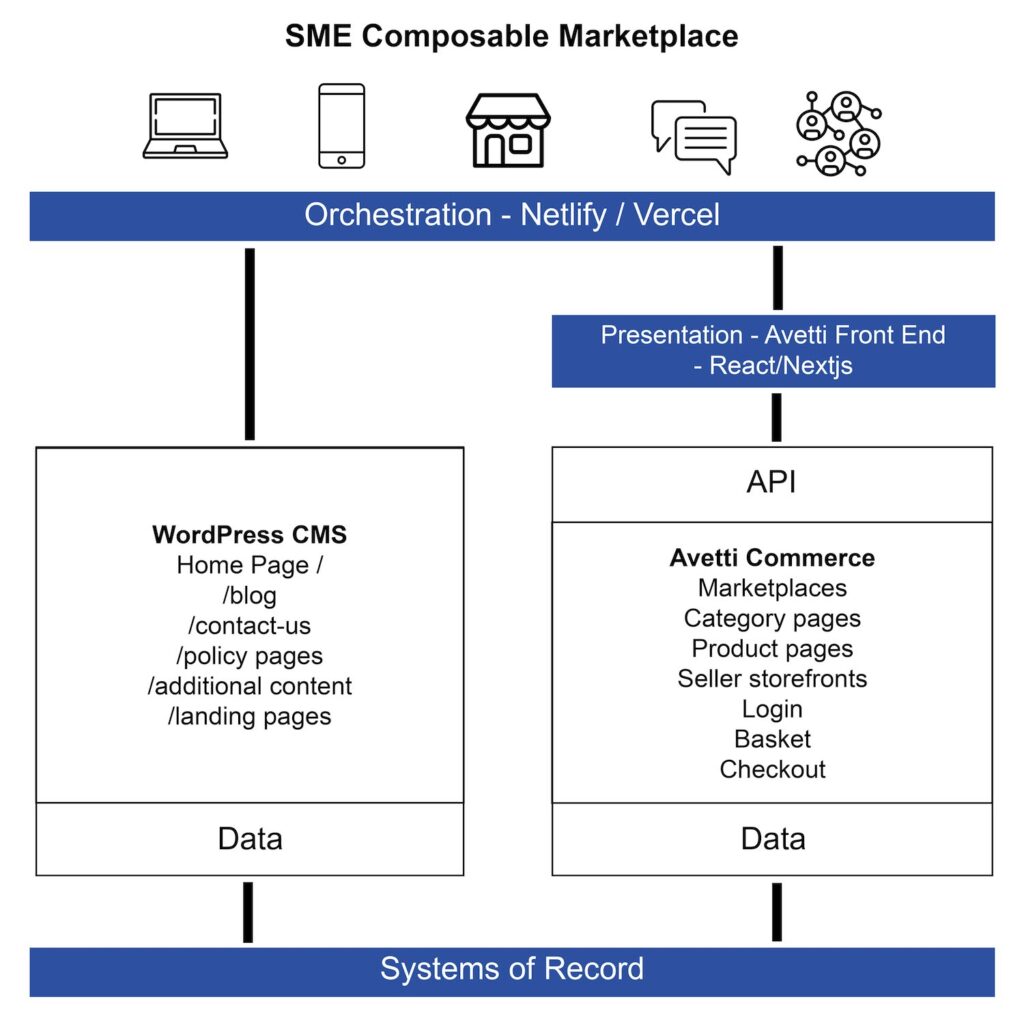 An Orchestration Layer routes applications by URL format and also hosts Front-End React/NextJS application code that embeds other SaaS applications via Rest/JSON Microservice API calls.
We recommend Netlify as the orchestration layer. It's the leading solution in this space and is used by 3 million developers globally. You can also easily switch to Vercel as another choice. Netlify/Vercel includes CI/CD Build tools and integrates to a private GitHub account. Netlify/Vercel also hosts the front-end application code. Netlify brings more productivity via faster build times and quick rollbacks to your developers and provides control over routing.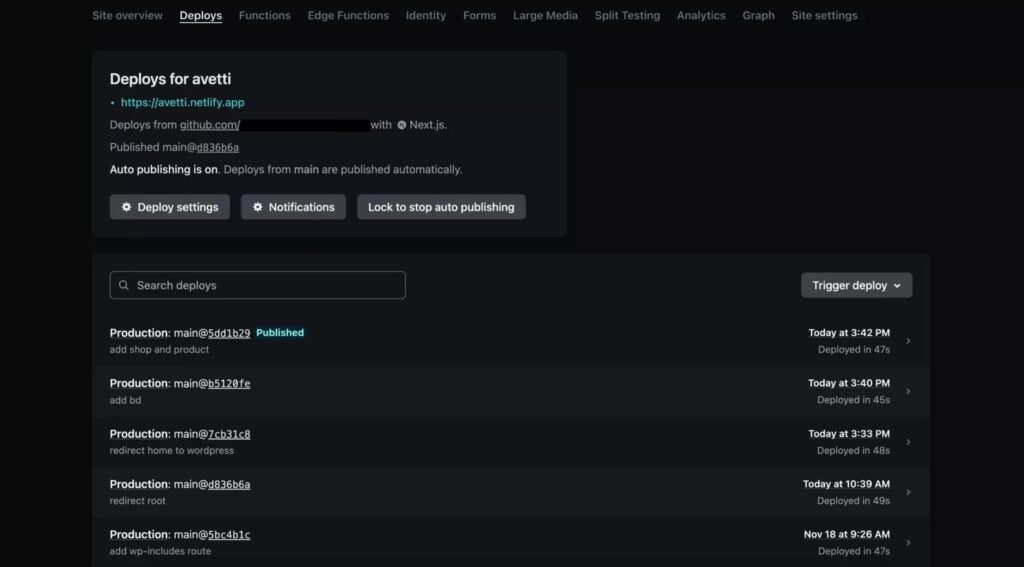 Avetti provides the Avetti Commerce Front-End which is the React/NextJS front-end application presentation layer that your team would modify and merge any existing code to as you have 100% code access to it, and this gives you the power and control to compose other applications via APIs.
A key application in any solution is the CMS or DXP (Digital Experience platform) that lets you manage non eCommerce content such as the body of the home page, landing pages, blogs and any static content. The problem is that your marketers need to have speed and agility to modify content quickly without IT involvement. We would recommend Builder.io which is a leading drag-and-drop visual CMS and lets you specify key areas of pages such as the body of the home page, landing pages, and informational pages that a Marketing department staff member can access to update marketing messages. Builder.io is visual and easy for Marketers to self-manage banners and carousels and static pages. They will love it.
We like to Compose with Builder.io but any CMS or DXP can be used. Through Builder.io, your marketing team would log in, click on the page of content to modify, and then easily update marketing messages and content with NO IT involvement.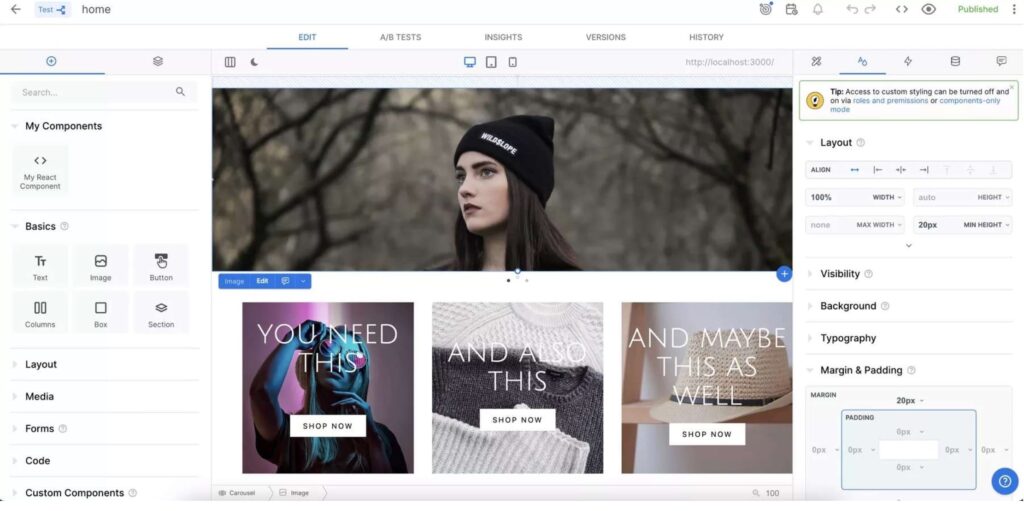 Other key components of a solution are a Digital Asset Manager to optimize images and serve them separately – we would recommend ImageKit.io and the Avetti Front-End already integrates with it. Another good choice would be Cloudinary.
If you require an AI-based search, you can route by URL to Algolia to add a more complex search when you may need it. Again with Composable Commerce you can mesh together many solutions and scale them or switch as technology changes or your site scales, and also use the out-of-the-box search Avetti Commerce provides for now.
The heart of your site would be Avetti Commerce – a Customizable Composable Marketplace solution that integrates with the Avetti Commerce Front-End. The React/NextJS Avetti Front-End provides advanced eCommerce cart functionality and integrates to Avetti Commerce with no changes needed.
Avetti Commerce is our Enterprise SaaS Marketplace Service. It is a PCI DSS Level 1 SaaS solution for high security. It supports 3P Suppliers that can self-manage their products and even auto-export subsets of their products from their existing Magento or Shopify SME stores if they have one. You may start with just your own products, but having the power to add complementary products from other sellers can expand your range and increase profitability.
Suppliers can also upload or manually create and manage their products via the Supplier Portal administration pages that are included. Offering 3rd party products is a fast route to additional sales. Best Buy Canada doubled their SKUs by adding 3rd party products and increased top-line revenue by 30% in one year. This created the marketplace boom, as every eCommerce site is now becoming a marketplace.
Avetti Commerce supports multiple marketplaces if separate sites need to be created for each country you want to market to. Each marketplace can have subsets of all 3P Suppliers in the platform.